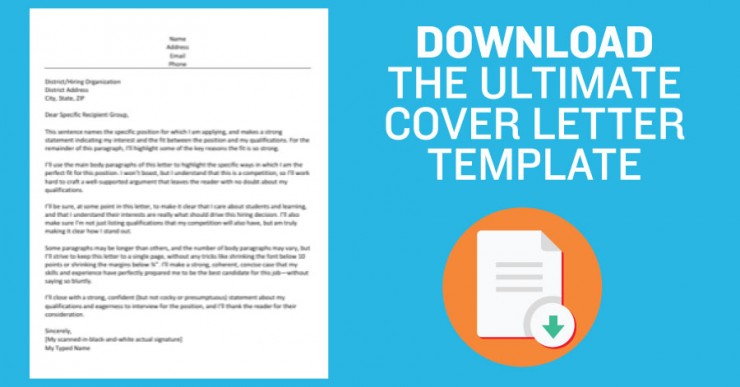 If you're looking for a new ed leadership job for the upcoming school year, now is the time to put together a cover letter that crushes it.
What do I mean by "it"? The competition. I hate to say it, but it's the truth.
Too many cover letters are milquetoast, run-of-the-mill statements of fact that do nothing—nothing—to get the applicant in the "yes" pile.
If you want to land your next admin job, you've got to ace the cover letter. (Read on for a free downloadable template)
The Cover Letter's Job
The cover letter's job is to get you into the "definitely interview" pile.
If your cover letter fails to do its job, the whole process stops. You're out of the running.
You can only write a solid cover letter if you understand its purpose. Your cover letter is NOT:
An explanation of the simple fact that you exist and are interested in the position
A narrative restatement of your résumé
A note to the reader that you possess the minimum legal requirements for the position
No, no, and no! Cover letters that only cover the basics don't give the reviewer any useful information. They fail to do their job…so you fail to get your job.
Don't Be Perfunctory—Sell Yourself
This is hard for us to do as educators, but in your cover letter, you've got to sell yourself as hard as you ever will.
This doesn't mean that you:
Brag or boast
Make unsupported claims
Explicitly say that you're the best person for the job
…but you need to make the reader come to the inevitable conclusion that you're the best person for the job.
I've read tons of cover letters that waste space with perfunctory, vague, and ultimately worthless niceties that fill the page, but don't help the reader fill the job.
Understand that you're actually doing the reader a favor by making a clear, strong case about yourself. Most of the time, reading cover letters is a total waste of time for the person reviewing applications, because they don't actually say anything enlightening about the applicant—and as a result, they all sound the same.
This is a mistake to avoid, but it's also a huge opportunity for you. Write a strong cover letter that sells your candidacy, and you'll stand out above the rest.
Don't Duplicate Your Résumé—Bring It To Life
The place to list your certifications, degrees, and years of experience is in the résumé. Your cover letter has a different job.
When it comes to qualifications, your cover letter should:
Connect the dots for the reader—always explain how the qualifications you're highlighting actually make a difference. For example, "My extensive experience working with teachers as an instructional coach has allowed me to develop both the expertise and the relationship-building skills that it takes to be a principal who is truly an instructional leader."
NEVER mention minimum qualifications, e.g. "I have a beginning principal's certificate from XYZ university". Nothing screams "rookie!" like a cover letter that brags about meeting the job's minimum requirements.
Frame your qualifications in terms of benefits for the organization, and especially for its students, e.g. "My passion for restorative justice compelled me to lead the development of a behavior intervention program that reduced out-of-school suspensions by 63%."
In other words, don't just share facts that are in your résumé (and certainly don't share facts that don't make you stand out).
Tell a story. Put the picture together for the reader, so they see how qualified you really are, and what a good fit you'd be.
For another take on your cover letter, check out this episode of Principal Center TV:
Download My Ultimate Cover Letter Template
I've created a simple, one-page template for you to follow as you craft your competition-crushing cover letter.
It's not a fill-in-the-blank deal—in fact, you won't be using any of my words. But you'll have a paragraph-by-paragraph guide to what your letter should accomplish.